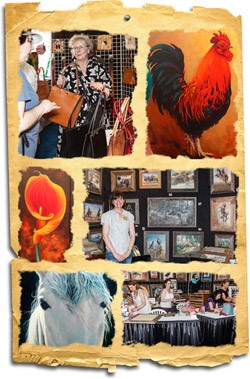 April 13, 2014 5:08 am | Published by MAP


Student artists from fourth grade through college are invited to submit their western-themed and -inspired art to the St. Paul Rodeo Wild West Art Show.
The show will be held in conjunction with the St. Paul Rodeo over the July 4 weekend. It will be a juried art show and art of any medium must be available for sale.
The deadline to submit artwork is June 10. Find the application online at www.stpaulrodeo.com, click on entertainment and then Wild West Art Show. Contact Shirley Southerland at ... or ... for more information.
2014 marks the 20th anniversary year for the Wild West Art Show. The show has come full circle in those twenty years, evolving from a top of the line fine arts show through several iterations featuring a variety of crafts and commercial and service enterprises, but always with talented artists tucked in among the vendors.
Last year, the decision was made to refocus and return the show to its roots focusing nearly exclusively on fine art and entertainment and top quality handcrafted items created and displayed by the most gifted of artisans. The result was a show warmly received by the artist community, patrons and the community at large.
This year, we're excited to be welcoming a growing list of top notch talent to share a marvelous variety of creative works with the greater St Paul Rodeo community.