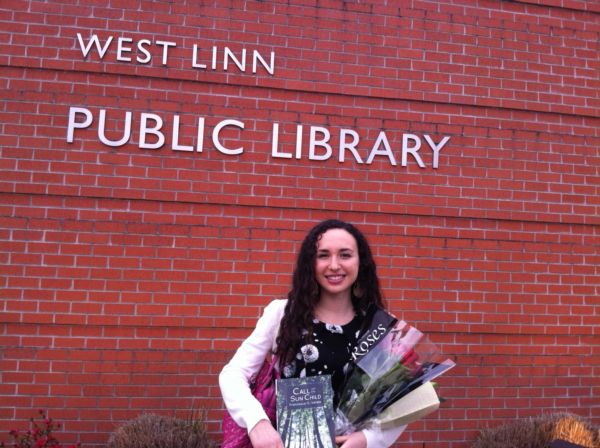 WLHS Grad, Francesca Varela, Publishes First Novel

April 10, 2014 5:34 am | Published by MAP
Congratulations to 2011 WLHS graduate, Francesca Varela, on accomplishing the dream of publishing her first novel. Her vision became clear to her many years ago at Cedaroak Park Primary School. "I decided what I would do with my life on a fall afternoon thirteen years ago. I was slouched over the thin plastic desk of my third-grade classroom, my hand tight from grasping my pencil. Behind the single sheet of paper provided for the assignment I had stapled four more; there was just too much to write about." And she hasn't stopped writing since. Her first major accomplishment was getting a poem published in the 2002 edition of The Anthology of Poetry by Young Americans.
Now a sophomore at the University of Oregon, Francesca is majoring in Environmental Studies with a minor in Creative Writing. She has written for campus publications including The Ecotone Journal of Environmental Studies and Envision: Environmental Journalism.
In her young adult novel, Call of the Sun Child, Sempra has lived all of her sixteen years in an enclosed dome called the Circadia Stable Living Facility. It is structured, sustainable, and windowless. After the sun grew in intensity, causing society to become nocturnal, it was the only safe place to go. No one remembers the outside world. For 150 years the government has warned them about the deadly sun, and savage, vengeful outsiders. There is only one punishment for any crime: to be exiled from the facility. But Sempra is curious. Beyond those walls, what is there to see? When she and her childhood friend, Alden, discover a forbidden book, she begins to question the facility, and, with it, everything she has ever known.
Advance Praise from Rosemont Ridge teacher, Steve Davala, author of the Soulkind Awakening:
In Call of the Sun Child, Varela has created a living, breathing world, that which was formed from her own passions. This tale of a lost girl, Sempra, and her transformation into adulthood is poignant and real. The world she exists in is somewhat distant, but unfortunately not distant enough. A cautionary tale, a coming of age tale… it asks us all the important questions: "Who are you and why do you believe what you do?"
Download:

Book Sun Child.jpg