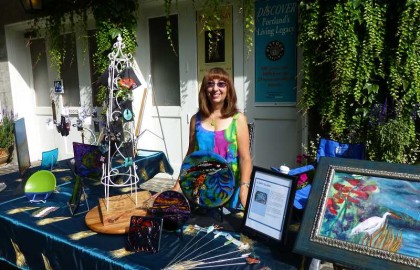 Art Teacher Lynn Pass Named Best In The State

March 25, 2014 9:54 pm | Published by admin

A former West Linn-Wilsonville teacher was honored as Oregon Art Educator of Year by the Oregon Art Education Association.
Lynn Pass received her award in a ceremony held in Sisters Oct. 12. Pass taught in the school district for 23 years, retiring from West Linn High School at the end of the 2012-13 school year.
"It was wonderful. I felt honored," Pass said. "I have amazing colleagues and to be honored by them was a great life event for me."
Pass was nominated for the award by Wilsonville High School art teacher Christopher Shotola-Hardt, who currently serves as OAEA president. In his nomination letter, Shotola-Hardt called Pass "a master teacher and an amazing human being" who was instrumental in building WLHS's strong art program.
"Lynn Pass built a regionally influential art program at West Linn High School, starting out as the sole art teacher and building a program that now boasts three full-time art teachers and a photography teacher," Shotola-Hardt said. "Lynn has been a tireless advocate for art education."
Pass called the award the pinnacle of her teaching career.
"You don't teach in certain ways for awards, but I think it's nice to be acknowledged," Pass said. "The career itself was super rewarding, to be able to make a difference in students' lives every day."
Since retiring in June, Pass has focused on her own art.
"Most people in art who retire, we continue with our art," she said. "It's such a gift, to be able to do what you love."
She maintains a studio in West Linn, where she lives and has been staying busy.
For the whole article see…
https://pamplinmedia.com/wsp/138-schools/198422-art-teacher-lynn-pass-named-best-in-the-state