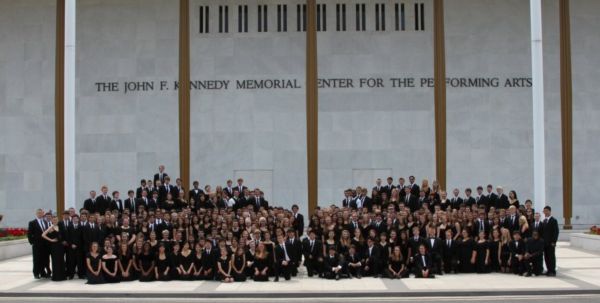 March 6, 2012 2:18 pm | Published by admin

From Lou Bailey, Principal at WLHS:
Congratulations to 2 of our Jazz Band members: Matt Miller and Toni Glausi!! They have been selected for the 2012 NAfME All-National Honor Jazz Band. This is a tremendous honor that reflects their dedication to their craft and commitment to musical excellence. They were selected, NATIONALLY, to be part of the 25 member Jazz Band that takes place from June 21, 2012, through Sunday, June 24, 2012 with a final performance of all ensembles at the John F. Kennedy Center for the Performing Arts on Sunday, June 24, 2012 at 4:00pm.
Please join me in congratulating the following students for their accomplishments this past weekend at the District Solo Competition:
DISTRICT CHAMPIONS (STATE):
Tony Glausi, TRUMPET
Joonas Lemetyinen, TROMBONE
Keven Krause, EUPHONIUM
Jonathan Macemon, MALLET PERCUSSION
Austin Stofiel, BASS
2nd PLACE Finishers:
Caroline Glausi, FLUTE (STATE)
Jenna Tatiyatrairong, CLARINET (STATE)
Sarah Schultz, ALTO SAX (1st alternate to STATE)
Callie Attanasio, TENOR SAX (1st alternate to STATE)
Courtney Mumma, FRENCH HORN (1st alternate to STATE)
Keven Krause, TROMBONE (STATE)
Jono Fung, VIOLA (1st alternate to STATE)
3rd PLACE Finishers:
Hyunwook Kim, OBOE (2nd alternate to STATE)
Kristy Lanz, ALTO SAX (2nd alternate to STATE)
Matt Miller, TROMBONE (1st alternate to STATE)
4th PLACE Finshers:
Connor McWilliams, OBOE (3rd alternate to STATE)
Luke Harju, TRUMPET (1st alternate to STATE)
Ashley Mumma, FRENCH HORN (3rd alternate to STATE)
Zoe Shroy, VIOLIN (2nd alternate to STATE)
5th PLACE Finisher:
Paige Towsey, VIOLIN (3rd alternate to STATE)
Three Rivers League Solo contest:
Please join me in congratulating the following students who participated:
Sam Brown 2nd Place Baritone Horn
Paige Towsey 2nd Place Violin (out of 71 violins competing)
Caroline Glausi 3rd Place Flute
Arianna Robin 4th Place Flute
Connor McWilliams 4th Place Oboe
River Wyatt-Marsh 4th Place Tenor Saxophone
(photo courtesy of American Musical Salute)