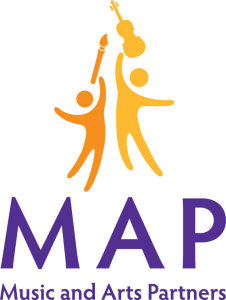 January 8, 2009 3:52 pm | Published by admin
As Publicity Director for Music and Arts Partners, I would like to wish you a happy New Year and welcome you to the new MAP blog.
It is my resolution for the New Year and the new decade to enhance the communications efforts of Music and Arts Partners – to better illustrate the value we provide to the community and improve our understanding – and the understanding of the larger community – to the state of music and arts education in the district. Connecting the dots will help us to become a stronger organization and provide more value for our kids.
Our new logo design (thanks to Chrissy Richards at Lightbox Graphic Design) and website both reflect the Board's desire to better serve the community through our support of music and the arts, and I am proud and excited to have participated in their development. I am also enthusiastic about the features and functionality that we'll be bringing online in the coming weeks and months.
What's in store?
You can already see an events calendar in your sidebar. We would like this calendar to be the reference guide for all music and arts events taking place in the district. We are working with our teachers now to get all of their events into the calendar, then we'll offer login access to them to allow them to post their own content on this website – including events into the calendar.
Faculty Grant Requests are moving online as well, with a secure online form available to make it faster and easier for our instructors to request funds and more efficient for the Executive Board to collaborate on making grants available.
In addition, this blog page will be available to the MAP Board, Representatives and interested arts and music faculty to share information and opinion.
But really, it isn't about us – it's about you. What would you like to see on the new MAP website? …