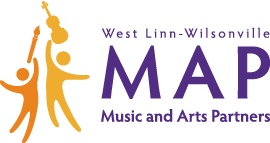 Read What Parents, Educators & Students Are Saying About MAP
"Thank You to Music and Arts Partners! A big thank you to MAP for purchasing an Apple iPod Touch and Airport Express for all 9 primary school music classrooms. The music specialists can now move freely around the room with the students and have complete control over the music (volume, track change, pause, etc).
This allows the teachers to stay with the students in the lesson and not run over to the sound system to adjust the settings. It is also very helpful when traveling to teach at two schools. All students K-5 in the 9 primary schools will benefit greatly from this grant."
– James Compton (on behalf of the Primary Music Specialists), April 2013
The West Linn High School Theatre Arts Department would like to thank Music and Arts Partners for the generous grant that made it possible to hire Grace O'Malley to design the costumes for "Into the Woods," "The Love of Three Oranges" and "An Enemy of the People." We are incredibly grateful for MAP's ongoing support of WLHS's Performing Arts programs.
2013-14 Season
"Dear MAP,
Our second and final child graduated this week from West Linn High School. Both of our daughters attended Kindergarten through 12th grade in this school district. We wanted to share our appreciation and gratitude for the music and arts education Emily and Erin have received.
When we relocated here in 1991 with a one year old, the reputation of this school district was the ultimate factor in choosing West Linn. It has been particularly sentimental for Dede as she attended Wilsonville Elementary. Our daughters have been top students academically, and we certainly value all that they have received scholastically.
In retrospect, however, it is the music and arts education that they have received that we are particularly grateful. We would be remiss to not acknowledge the amazing music and arts mentors they have had over the years: Charlie McGeehan, Cheri Weaver, Linda Kieling, Kate Coreson, Lynn Pass, Jessica Murray, Jon Ares, Annie Kaiser and Nancy Monson. What is particularly special in a district like ours, is how mentors from elementary and middle school continue to follow students through high school.
We know that music and arts will always be an important part of our daughters' lives. And though we often cite the importance of music and arts to engage students who may be disenchanted in traditional academics, we would add it to be equally important in adding a necessary balance and enrichment to the lives of those students who excel academically. It is with great sadness that we see the cutting of music and arts in school districts across Oregon and the U.S.
We applaud the West Linn-Wilsonville School District and the Music and Arts Partners for its commitment to the arts, and hope that all students in the district can continue to receive the arts education received by Erin and Emily and their classmates. We look forward to being able to continue to support music and arts in West Linn and Wilsonville."
– Dede Montgomery and Russell Axelrod, parents
"Dear MAP Board,
Last night, our All-District Strings Festival was AWESOME! I feel that moving the strings program into the school day was a fabulous decision, as the quality of instruction was clearly present the student's performance. In addition to the increased contact time the students received from both myself and Mrs. Elliott, the added education, help, and resources from Nikki and Casey were an integral part of our success.
I wanted to share a few notes that the kids made about Nikki helping us here at Rosemont with the Strings Program.
"Nikki taught us to play in 3rd position, which is really difficult…but she explained it very clearly and we all can do it now!"
"Nikki broke things down in a step-by-step and efficient way.."
"She helped us so much with concentration, technique, and improved our playing skills…"
"Mr. LaGrone taught us about sharps and flats and Nikki showed us how to apply them best to our playing…"
"Nikki is a cellist and so am I. She taught me how to approach the cello better, how to play in different positions, and just be better at it in general…"
"Nikki helped to make our orchestra sound better. She taught us how to listen to each other when playing as a group…"
I look forward to MAP's continued support in providing these resources to our strings program. Please let me know if there is anything I can do to help."
– Ronnie LaGrone Director of Bands Rosemont Ridge Middle School, May 2013
"Thank you ever faithful MAP board!
This residency (Rosemont Ridge and Athey Creek Middle School Strings Program year-long residencies with Nikki Graybel and Casey) is a fantastic gift to the orchestra program. I had evidence of the power as I attended the Rosemont Ridge Orchestra concert last evening. It was very impressive to see and hear the level of musicianship and preparation evident in the students' performance.
Ronnie and Kay and the students are to be congratulated! I am sure the residency is making a positive contribution. The importance of the MAP partnership is evident again. MAP's efforts are raising the quality of the music and strengthening the learning offered in our precious orchestra program. My sincere thank you to each of the MAP members."
– Jane Stickney, Deputy Super Intendant
"I am very thankful to MAP and desperately depend on grants, concessions, and donations to be able to purchase what I use every day in my music room. I cannot imagine a life without MAP, and I will do everything I can to keep it prosperous and sustainable."
– James Compton, Sunset Primary School Music Specialist
"MAP has supported music education in so many meaningful ways, from rocking classrooms with violinist Aaron Meyer to purchasing a traveling classroom set of violins. Through the generous support of the WLWV Music and Arts Partners, middle and high school students were introduced to the wonderful world of composition and arranging.
MAP enlisted local musician extraordinaire John Nilsen to work with the West Linn High School guitar classes in a week long 'Songwriter's Workshop' and with the Athey Creek/Rosemont Ridge Middle Schools orchestras in a month long orchestration workshop. Without MAP our music and arts just wouldn't be the same."
– Andrew Webster, 2008 Residencies
"Thank you to MAP for having me bring my songwriting residency to Boones Ferry. Andrew Webster and I always enjoy working together, but more importantly, we get through with a valuable message to the kids. It is something I look forward to each year. I've worked in every school in the WL/W District with the exception of Athey Creek MS – that's pretty cool. Again, my sincere thanks."
– JOHN NILSEN pianist guitarist recording artist, June 2013
Thank you, thank you, thank you for all MAP does for us. The funds that MAP creates are invaluable. It helps to have such an advocacy group that values what we do in the classroom (and beyond).
Diane Gauthier – West Linn High School Art Teache