Strings Program Orchestrates Fun Musical Experience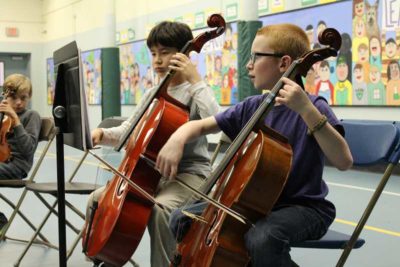 TIDINGS PHOTO: ANDREW KILSTROM - Sunset fourth-grader Daniel Ellis (left) and fourth-grader Ben Weston play the cello at Strings practice.
Third-, fourth- and fifth-grade student begin journey learning to play strings.
Between the harmonic sounds of the orchestra, shiny, sleek wood of the instruments and 'cool' status that comes with being a part of West Linn-Wilsonville's Strings Program, it's no wonder so many students have picked up a violin or cello over the years.
The enrichment program is an after-school class paid for by registration fees and some funding from the district and has been a staple in the district for more than 20 years. It's as popular as ever with third, fourth and fifth-grade students hoping to master one of four orchestra instruments over the course of the school year — the violin, viola, cello or double bass.
Starting Oct. 13 kids throughout West Linn and Wilsonville began working on the craft twice a week. Students from Wilsonville primary schools practice Mondays and Wednesdays at Boeckman Creek Primary while students from West Linn schools practice Tuesdays and Thursdays at Cedaroak Park Primary — students at Stafford Primary have the option of practicing at either location. About 130 students in all participate in the program, leading to a raucous performance when concert time rolls around in December.
The program made significant changes three years ago when Nathan Givens — who previously worked in the district at Wood Middle School and later Wilsonville High School, and now owns a private music business (Music Man Studio) providing lessons and equipment rentals — came forward with the idea to combine all the schools into one common location.
"We used to have it where every school had its own strings program," says Deputy Superintendent Kathy Ludwig. "What we noticed over time was in some schools a challenge of finding someone who felt skilled enough to teach strings. ... We noticed that Nathan was being utilized at a number of schools and he brought a great consultation to others. He was also holding it together in some ways, and was kind of our main instructor, so when he proposed the idea that he was willing to oversee it in a more formal capacity we were thrilled."
What's ensued is a more cohesive program that's brought together students from different schools, allowing for new friends and better performances come concert time in the winter and spring. The year-long program also better prepares kids for middle school and high school orchestra when the time comes.
With a beginner program for first-timers and an intermediate orchestra program for second and third year Strings participants, Givens and his team of instructors provide a challenging learning environment for all skill levels.
"Everyone kind of had their own fragmented program before, and everyone was doing a great job with their class, but it was just hard to try and get everyone to learn the same things at the same time," Givens says. "Our goal was to make this into a more unified program so that when we had kids that were more prepared when they moved up to middle school."
The results have been well received, especially from students enjoying everything Strings has to offer this year.
"This is my first year but it's been a ton of fun," said fifth-grade violinist Archer Marciel. "I've learned a lot so far."
"We get to hang out with friends and learn how to play music at the same time," added third-grader Tess Pierce.
And while it's a lot of practice, it's worth it. Students get the chance to show off their skills at two concerts — Dec. 16 at Wilsonville High School's Performing Arts Center and again May 17 at West Linn High School's Performing Arts Center. It's a chance for many kids to play with a large group in an orchestra setting for the first time, as well as another unique experience that comes in the spring.
"At the end of the year all levels come together for a performance — the middle schools and high schools play with the primary students as well," says Strings Coordinator Julie Lane. "The primary students get the chance to play with the older kids, which is great for so many reasons."
"We do that intentionally so that they get the chance to see where they're going and how the work they're doing is just the starting point," adds Ludwig.
Because Givens and his team — Maren Knopp and Adam Young help out at Cedaroak Park while Young and Givens' wife Lori Givens assist at Boeckman Creek — only get a combined hour and a half per week to get students ready for their two concerts, a lot is packed into every session. In the approximately eight weeks from the first practice to the winter performance in December, kids to learn to read music, properly hold their instrument and eventually learn
three songs.
While the 15 minute performance goes by quick, it doesn't happen without hard work from students and teachers.
"What's really amazing is, when you go to the winter concert, we kind of chuckle a little bit because it's a lot of work for a few pieces," Ludwig says. "On the first level you can think 'wow, that was really simple,' but all the work that goes behind kids actually accomplishing 'Twinkle Twinkle Little Star' is amazing. ... It's not just about 'Twinkle Twinkle Little Star,' it's about everything that led into it to be able to do that and then everything that will come after."
Givens, who attended Stafford Primary as a child before finishing school in Canby, has continued to teach the Strings program because of the inspiration and passion orchestra provided him at a young age. While there wasn't Strings when he was in school, a similar opportunity sparked what has become his career. He said his goal is for students to have as good of an experience as he did.
"I started playing stringed instruments at Stafford when I was in grade school, so it's always fun for me to teach these kids and kind of remember what it was like for me when I started," he says. "A lot of good comes from having these experiences."
Story and photos by Andrew Kilstrom
Wilsonville Spokesman and West Linn Tidings
November 12, 2015
Contact Andrew Kilstrom at 503-636-1281 ext. 112 orakilstrom@pamplinmedia.com.