School of ROCK brings down the house at Art Tech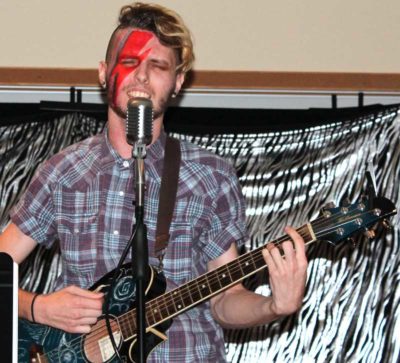 SPOKESMAN PHOTO: ANDREW KILSTROM - Senior Jude Casey sings during Wednesday night's School of ROCK performance at Arts and Technology High School Oct. 28.
Everybody loves a good rock concert, which is exactly what friends and family received Wednesday, Oct. 28 when Arts and Technology High School students put on a show, playing classic and current rock hits in the school's Kiva — the school's multipurpose performing arts building.
Art Tech's School of ROCK, a collection of musically-inclined students, have spent the past couple months spending hours and hours after school with rock band teacher Matt Whitehead, learning some of their favorite songs in preparation for the big night. The students played everything from guitar to bass, drums and even the ukulele.
They performed for more than an hour to multiple standing ovations, as various singers took turns gracing the stage, and different guitarists tried their hand with impressive solos.
The band performed current songs like Adele's "Skyfall," but also made sure to play some classics as well, including Cyndi Lauper's "Time After Time" and Blue Oyster Cult's "Don't Fear the Reaper." The night served as an opportunity for students to share their hard work and talent, as well as to raise money for new equipment and a better performing arts venue.
"All of this has been a blast but it's also been a lot of hard work," said guitarist and singer Jude Casey at the performance. "Most of this equipment is borrowed and it would be great to get some of our own equipment."
A hat was passed around toward the end of the concert for anyone wishing to donate to the program. Those wishing to donate to the Rock Band class can contact Art Tech Principal Saskia Dresler at dreslers@wlwv.k12.or.us.
Story and photos by Andrew Kilstrom
West Linn Tidings and Wilsonville Spokesman
November 5, 2015
Contact Andrew Kilstrom at 503-636-1281 ext. 112 or akilstrom@pamplinmedia.com.