2016 Beloved WHS Choir Director, Sue Schreiner, to retire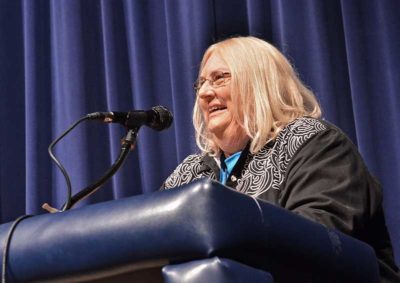 SPOKESMAN FILE PHOTO: VERN UYETAKE - Sue Schreiner teaches Soul'd Out, women's choir, symphonic choir, Men of Wilsonville and freshman vocal ensemble at Wilsonville High School.
WHS pioneer leaving after 22 distinguished years
Sue Schreiner's impact at Wilsonville High School is impossible to measure. Considered one of the school's "pilgrims," Schreiner has been at WHS since it first opened its doors in 1995 when there were fewer than 500 students. She created its renowned choir program from the ground up, building it over the years into the nationally recognized powerhouse it is today.
According to anyone who's ever been heavily involved at Wilsonville High, Schreiner was pivotal in cultivating the culture the school enjoys today. After 22 years of teaching students all there is to know about vocal musicianship, playing the piano during concerts or directing just outside the limelight, Schreiner will take the stage at Wilsonville for the final time at the school's final concert of the school year Tuesday, May 24. It will be the last time she conducts her pupils — the last time she'll smile out on a familiarly packed WHS auditorium.
"We said when we opened up Wilsonville High School we were going to open a different place with a different climate and culture," says Sheree Little, Schreiner's best friend and one of Wilsonville High's pilgrims. "She's had choirs that have sung in Carnegie Hall, performed for heads of states and heads of large corporations many times. ... All through it all she has the same grace and quiet style as a director and as a person."
Schreiner prefers working behind the scenes, allowing her wildly talented choir program to reap the regular praise and standing ovations that come after every signature performance. Her humble disposition is just one of the many qualities that have earned her such recognition as Odessa, Missouri, Citizen of the Year a few years back — her hometown — in spite of living on the other side of the United States for the majority of her adult life.
Perhaps what Schreiner is known best for is her transcendent a cappella program, Soul'd Out. The group was one of the first of its kind in the state of Oregon, has competed at the national level in New York City multiple times and appeared on the NBC show "The Sing-Off" in 2011. Using only their voices, more than a dozen students harmonize with one another, creating the soundtrack for the entire Wilsonville community for the past decade.
"For all the success that Soul'd Out has had I think the biggest accomplishment is that she made it cool to be a jock and a choir member, and that's continued through WHS to this day," Little says. "She's brought unlikely people together through music, and it made it cool to be yourself."
Schreiner credits the many accomplishments of Soul'd Out and the multiple choir programs at WHS to the consistent talent and relentless work ethic of students who walk the school's halls. Others, however, claim it's just another example of her gracious personality.
When the school year comes to a close and Schreiner has conducted her last song, she will move to Texas to be closer to her two sons and grandchildren. While the choir program at WHS will remain strong thanks to the foundation that's been laid, there's no question Schreiner's absence will be felt.
"Sue Schreiner is an extraordinary teacher," says former West Linn-Wilsonville Deputy Superintendent Jane Stickney and current Education Foundation member. "She inspires children to meet and exceed their own expectation by believing in them and their awesome power. She gives them great guidance, shows them how to work hard and helps them know what excellence looks like and sounds like. Our community has been blessed to have her here."
"She is so creative in the way she teaches, the way she draws creativity out of kids," says Aaron Downs, WL-WV assistant superintendent and former WHS principal. "I remember during one particular staff development meeting she taught some members of the staff to sing, who were saying 'There's no way, I can't sing.' But after just 20 minutes she had folks saying, 'I think if I spent more time with Sue I could learn how to sing.'
"I always thought that was a good story of the kind of teacher she was and the relentless passion and infectious personality she brought to her profession. Wilsonville High School and this district will miss her greatly, and I want to thank her personally for everything she did for me."
The greatest testament of all is Schreiner's legacy in Wilsonville. Despite all the achievements and accolades her programs have racked up over the years, it's not awards or championships that Schreiner will be remembered for. Ultimately it's her impact on so many students' lives and the greater community that will be remembered most.
"Sue is a one phone call friend, the kind you make one call and it says 'I'm hurting or need help,' Little says. "No questions asked she's there in an instant. She'd give you the shirt off her back even if she'd never met you. She's the type of person I strive to be."
Written by Andrew Kilstrom
Photograph by Vern Uyetake
Wilsonville Spokesman
May 19, 2016
Contact Andrew Kilstrom at 503-636-1281 ext. 112 or akilstrom.pamplinmedia.com.